Rogue Amoeba | Audio Hijack: Record Any Audio on MacOSのページにて、アプリから出る音を個別録音することができる「Audio Hijack 4.0.2」が公開されていました。(有料。Ver.3からのアップグレードは有料になります)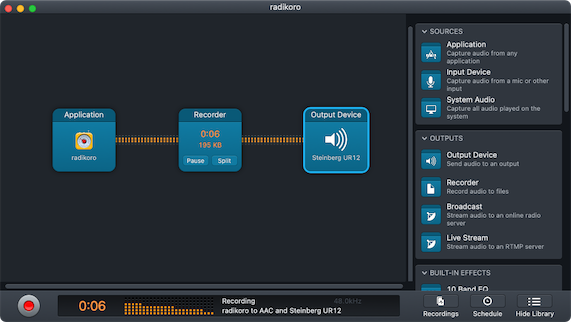 変更点
Importing Improvements for Sessions With Many Recordings
Audio Hijack 3 sessions with many recordings could previously be slow to import to Audio Hijack 4, or fail to import at all. This has been corrected. If necessary, use the "Import Audio Hijack 3 Sessions" menu item in the "Help" menu to re-trigger importing.
Audio Unit Presets Now Properly Import From Audio Hijack 3
Presets saved for Audio Units in Audio Hijack 3 will now properly import into Audio Hijack 4.0.2 and up. This will happen automatically, with no user intervention necessary.
When the selected device for an "Input Device" or "Output Device" block is missing, a useful visual will now be shown on the block face.
Scripting: Audio Hijack's console.log() now also copies all messages to MacOS's Console.app, for easy viewing.
The tab key now correctly navigates between fields in the "Recording Inspector" window.
A rare issue where pipelines could change slightly when imported from Audio Hijack 3 has been corrected.
A rare issue where certain Audio Hijack 3 sessions could import into Audio Hijack 4 without a name has been corrected.
The interface will now always update when starting a session via a script.